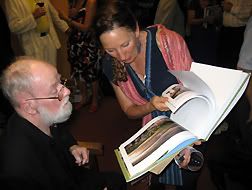 So Thursday night finally marked the official launch of my father-in-law
Sir Peter Siddell
's massive coffee table art book of his life's work,
The Art of Peter Siddell.
It is no exaggeration on my part to say my father-in-law is one of New Zealand's most respected living painters. I chose a good family to marry into, as both of Avril's parents and her sister and brother-in-law are all acclaimed artists. I remember when I first met my wife's father more than a decade ago now and I was telling him I thought a big book of his paintings would be wonderful to see sometime. It's been very good of the kind folks at
Random House
to work so diligently to bring this project to fruition. It's a highly handsome tome -- hey, it's even got paintings of my wife and son in it (and a photo of some disreputable blogger/journalist American expatriate in the introduction as part of a family portrait). The book's been getting some very kind notices and press (special kudos to
Beattie's Book Blog
which has given it multiple plugs).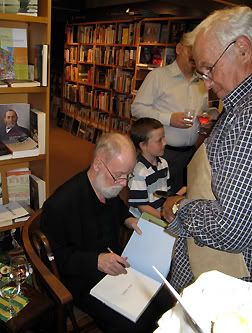 Thursday night was special, because nearly 100 people came out to the invitation-only event for Sir Peter at
Parson's bookshop,
longtime family and friends.
It's no hyperbole to say it's been a rather rough couple of years for our family down here. I've written, sparingly and out of respect for the family's privacy, of Sir Peter's battle with a brain tumour he was diagnosed with in 2008. He is still with us, perhaps slower than once before, but doing far better than anyone would've predicted more than two years ago when we got the diagnosis. But my wife's mum,
Sylvia Siddell
, has also had an extraordinarily hard time of it lately with her own cancer diagnoses, including multiple painful surgeries. She was actually in hospital just this week for a spell and got out just in time to be able to attend the book launch. Even Sir Peter's sister, my wife's aunt, has been ailing and in hospital (at one point this week my wife's mum and aunt were in the same hospital ward opposite each other). At times like these when you start to feel like a plague of locusts might be around the bend, the support of so many friends and supporters of Peter's art is a mighty thing.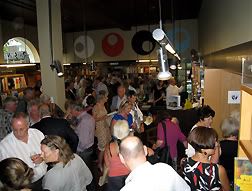 Seek out the book if you get a chance -- it's an impressive testament to one artist's imagination, vision and peerless skill over nearly 50 years of work. And I'm not just saying that because he's my father-in-law.