Freedy Johnston, "Can You Fly" (1992)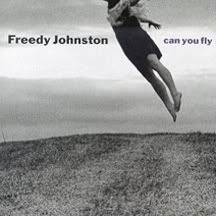 The world has a surplus of singer/songwriters, sensitive guys with guitars penning odes to their lost loves and such. Kansas-raised
Freedy Johnston
got a bit lost in the cracks, but his albums hold some great stories, told with a keen eye and a voice that is by turns agonized and hopeful. His breakthrough album on a career that never quite went mainstream was 1992's
"Can You Fly,"
a record packed with finely honed character studies, tales of valiant losers and romantic mavericks.
"Can You Fly," his second album proper, was financed by Johnston selling off his grandfather's old land in Kansas, as he notes in the rollicking album opener,
"Trying To Tell you I Don't Know"
--
"Well I sold the dirt, to feed the band."
It's the kind of album that's known to a certain breed to rock critic and a small devoted fan base, but really should have been a stone-cold classic. The far more vapid, high-school journal-style lyrics of
Alanis Morissette
sold gazillions around the same time. Isn't that ironic.
Johnston's vocals quiver, seem barely held back -- the hummable melodies of the songs given great tension by his voice's commitment. Like a songwriting Raymond Carver, Johnston paints character landscapes with a fine eye. Take the elegant, broken-hearted
"Mortician's Daughter,"
where with a few quick strokes Johnston etches an entire world:
"I used to love the mortician's daughter / we drew our hearts on the dusty coffin lids. ... We rolled in the warm grass by the boneyard fence / her skin so white, the first leaves falling."
I recall listening over and over to
"The Lucky One,"
a singalong tale of a beaten-down gambler's plucky optimism --
"I know I'll be the lucky one,"
he sings, and it's a call for anyone who ever gambled away on a dream -- whether it was a good one or a disastrous one. Some of the songs grow for me with each listen, like the little masterpiece
"Responsible,"
where a father sees his daughter off to the big city, or the mysterious and evocative title track.
It's a distinctly American record -- not in any jingoistic fashion, but in the way Johnston pushes between dogged open-road big dreaming and tiny, brittle setbacks. The wide-open skies and roads of Kansas color "Can You Fly," where ghosts of the past flutter about without ceasing.
Johnston went on to produce some other fantastic work -- his next album, 1994's
"This Perfect World,"
is just about as good as this one, while 1997's tightly wound
"Never Home"
only suffers in comparison to its predecessors. After that, though, Johnston's muse seemed to fade -- 1999's rather lethargic
"Blue Days, Black Nights"
drowned in its own dark tone and I have to admit I kind of lost track after that.
Just recently Johnston released his first album of new material in eight years,
"Rain On The City."
I haven't gotten around to picking it up yet, because I guess it's a case of worrying you can't recapture that same old magic. Still, "Can You Fly" and "This Perfect World" are good enough a testament that Freedy Johnston will always rank high on my songwriters hall of fame.