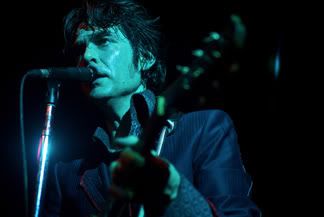 I like my job just fine, but sometimes the hours are a bit unsociable. This last week I had a bunch of 5am starts, which leaves you a wee bit befuddled by the end of it all. So what better way to wind up a week than with some dirty shirt, sweaty rock 'n' roll and the
Jon Spencer Blues Explosion
? On an extraordinarily hot, sweaty Auckland Friday night, a couple hundred of us crammed into the
Kings Arms
to perspire away the work week blues.
The Blues Explosion have been kicking about for around 20 years now, with a high-octane, borderline kitschy blend of garage rock blues-punk, with frontman
Jon Spencer
channeling a kind of mad cross between
Elvis Presley
and
Iggy Pop.
You can trace a direct influence from the Blues Explosion to the
White Stripes, The Strokes, Black Keys
and many other popular garage-noise bands, although the Blues Explosion have never quite become household names. But they are awesome fun -- I first heard their classic album
"Now I Got Worry"
back in the mid-90s living near Memphis, and if I ever just want to bliss out with hard-driving rock 'n' roll, I go with the Blues Explosion.
Last night's show was cathartic fun from the word go, as Spencer took the stage in leather pants and at least to me looking curiously like a weathered version of Morrissey. With guitarman
Judah Bauer
and pounding drummer
Russell Simins
the trio blasted through 90 minutes or so of all their shoulda-bit hits like
"Bellbottoms," "Wail," "Chicken Dog," "Greyhound"
and more. Spencer kept hollering out his mantra, "Blues Explosion!" and on this sticky night, no song seemed more appropriate than
"Sweat"
-- "That's the sweat of the Blues Explosion," he sang, as rivers of the stuff flew off his mop of black hair. Yeah, by the end of the encore we were all pretty ripe and in need of deodorant -- but it was one of those great music moments as little shaved-head guys built like fire hydrants bounced around with high-heel wearing petite bar chicks and one extraordinarily smelly guy who looked like a missing Fabulous Furry Freak Brother.
There ain't nothing particularly deep about it, but boy was it fun. When Jon Spencer put down the guitar to engage in a feedback-lacked
theremin solo
, I knew I was in something approaching rock 'n' roll paradise and all thoughts of work and normal daily life fled my head. If you can rock a theremin you've got it going on. Long live the blues explosion.