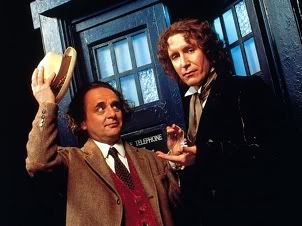 I've been to several big old American comic-book conventions like the ChicagoCon, so really, compared to them, New Zealand's
Armageddon Expo
is rather small. But it's still a decent size and a lot of fun to while away a day at -- a couple of hundred booths of stuff for sale and show, celebrity guests, tons of bizarre costumes to gawk at and the usual kind of overcrowded, sweaty, adrenaline-filled rush of stimuli you get at conventions.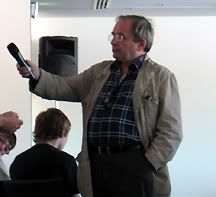 But the big draw for me this time was the chance to see TWO former
Doctor Who
s appear -- the
"seventh Doctor,"
Sylvester McCoy
, and the little-known
"eighth Doctor,"
who only appeared in one 1996 TV movie,
Paul McGann
. Both appeared for photos etc as well as in panels. I always find these kind of panels quite fascinating, a bit of a peek behind the curtain at what an actor's life is really like. They have to put up with a lot of inane fans, but I appreciate it when an actor takes the time to talk to the crowd.
McCoy
played the seasoned old showman/raconteur, rambling off into oddball and amusing stories about shoving ferrets down his pants in his circus days (I kid you not). He's had a long and varied career (and is apparently going to
play a role in "The Hobbit" movies
if they even actually get made) and was quite comfortable playing to the crowd.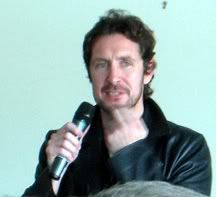 McGann
was a bit more wistful and down-to-earth (and I think jet-lagged). I've just watched the 1990s
"Doctor Who"
movie he was in, and while it was a mixed bag story-wise, I really liked McGann's portrayal of the Doctor, half Victorian dandy, half imperious alien. It's a shame he didn't get to play the Doctor more (although he has done a ton of audio-only adventures.) McGann isn't a household name but he's been in some good stuff, notably as the "I" in the Brit cult classic movie
"Withnail And I,"
and he also waxed rhapsodic about his appearance in, er, lower-brow flicks such as
"Lesbian Vampire Killers."
He seemed like a good bloke, basically, and both he and McCoy had a lot of fun geek tidbits into "Dr. Who" history which I found fascinating, as a relatively novice Who-vian who really only got into the show starting with the new 2005 series. (McGann mentioned that during the casting for the 1990s "Doctor Who" would-be revival, one actor's name came up repeatedly for the part of the Doctor -- Monty Python's
Eric Idle.
While I do love the Python, I suspect that would've been a bizarre misstep indeed.)