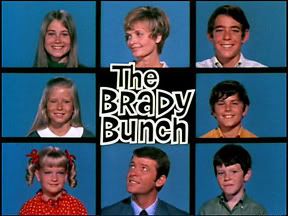 In truth, I spent far, far too much of my childhood watching reruns of
"The Brady Bunch."
I saw every one of the 117 episodes of "The Brady Bunch" in afternoon reruns as a kid, some of them many times over. The shows were only a few years old at this point, and in constant rotation on TV. Greg Brady's dubious fashion choices, Marcia's hotness and Mike Brady's stern but loving paternal tone were all hardwired into my brain, paisley patterns on a growing mind.
The other weekend, I discovered a cheap DVD clearance sale where I could buy the full season sets of "The Brady Bunch" for just $9 each. I went a little bit mad, visions of polyester '70s childhood recaptured in my head. And I imagined indoctrinating young Peter -- not named after the middle Brady boy, honest -- into "Brady" fandom. (He loves "The Simpsons," and I do too, but frankly sometimes we think he could use a little more wholesome family sitcom role-modeling than Homer and Bart.)
I still think, 40 years (egad) after it premiered, "The Brady Bunch" stands up in my mind as the archetypal cuddly sitcom. I don't profess it to be an objectively "good" show. But it has a warmth and sincerity despite the hackneyed sitcom plotlines (Bradys go camping! Bradys clean attic! Bradys go Hawaii!). The kids always seemed more real than the wisecracking automatons on sitcoms such as "Differ'nt Strokes," and Mike and Carol Brady portrayed a truly loving couple -- a blended marriage --- that modeled the kind of behavior most of us would like parents to be. The only truly false note is wacky Alice the housekeeper, who now seems vaguely creepy with her constant passive-aggressive wisecracks about her love life.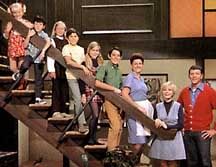 I was always rather fond of the Brady home layout. Was a fictional television sitcom location ever better delineated? The Brady bunch house has inspired a host of fetishists (including
blueprints for it
). The house felt lived-in, kitschy to the max, of course. What was the deal with the hideous clown painting on the boys' bedroom wall, or the astroturf lawn, or the strangely mod and cavernous haunt that was Mike's den? Was there really only one bathroom?
While it wasn't part of the hard-hitting, "relevant" wave of '70s TV shows that included "M*A*S*H" and "All In The Family," the Bradys were a gentle step beyond one-dimensional "Leave It To Beaver" and "My Three Sons" type families. Sure, Greg getting caught smoking was about as harsh as it got, but I don't know, "The Brady Bunch" never felt quite as fake as plastic as so many sitcoms to me. Or perhaps it was so ridiculously plastic that I embraced it anyway. Or maybe it's just because I grew up on Brady afternoons, a half-hour of gently moralistic hijinks several days a week, and anything you grew up looks good with enough hindsight.
Whatever the answer, re-watching these episodes in recent weeks has been a jolly good time. And my Peter? He loves 'em too. Groovy.