Happy birthday to my dear old dad, who turns
70
today.
Birthdays are one of the times I really feel the distance of being on the other side of the world from my family, unfortunately, but with the Internet and phone we do what we can. I still remember him coming home from work when I was a kid, wearing his Air Force uniform, his keys jingling. The smell of Brut aftershave always reminds me of my Dad.
Ever since I had a boy of my own the immensely hard job of being a dad has been revealed to me more and more each day. It's a job that you don't apply for, but it's harder in its way than any other job you'll have. It humbles the heck out of you as you discover all the things you'll do wrong, but it also has moments of the highest pristine clarity that will become the highlights of your life. Working in the media I am sadly exposed every day to huge screw-up wastes of fatherhood who abandon, abuse and hurt their kids, and I know I'm doing better than all of them.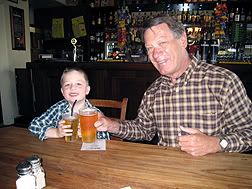 My dad taught me much of the best of what I do. We've had our disagreements as all fathers and sons do, but they've haven't been that bad. Moving down here 6000 miles away four years ago, one of the hardest things was knowing I'd be so far away from my own family, and with the only grandson too. My parents have always supported every move I've ever made, and we haven't actually really lived in the same town for long in 20 years now. But there's a lot of difference between a few hours' drive and an ocean.
Happy Birthday to you Dad, and thanks again for all the good lessons.