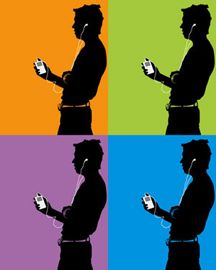 So anyway, I've been trying to be a bit better about the exercise -- my tricky work schedule and caring for the boy in the afternoons make it tough to get my favorite exercise, walking, in. But the other day I jogged/walked around a local lake and was feeling very pleased at the manly exercising.
Then I realized somewhere along the way my driver's license, that I'd slipped in my shorts, had fallen out. I then had to walk around the basin AGAIN to find my license. Which I finally found on the ground in the parking lot near my car.
Stupid exercise.
1.
Pop Juice
4:23
Gomez
2.
Interlude: Couldn't Call It Unexpected No. 2
0:22
Elvis Costello
*
3.
Serve Yourself
3:49
John Lennon
4.
Now My Heart Is Full
4:09
Morrissey
5.
Nothing Is Good Enough
(Instrumental) 3:10
Aimee Mann
6.
Electric Feel
3:50
MGMT
7.
Racing Like A Pro
3:26
The National
8.
Sunday Bloody Sunday
1:37
Richard Cheese*
*
9.
Let's Call It Off
3:39
Peter Bjorn & John
10.
Innocent Bones
3:43
Iron & Wine
11.
Attack El Robot! Attack!
3:17
Calexico
***
12.
Love Comes Quickly
4:18
Pet Shop Boys
13.
When Doves Cry
3:48
Prince
****
14.
Jungle Rock
2:35
The Replacements
*****
* For some reason I've always loved this jazzy little pause on one of Costello's most underrated albums, 1991's eclectic as heck
"Mighty Like A Rose."
** Nothing better than U2 done in a mambo fashion.
*** Any song with "Robot" in the title is automatically 1000% better.
**** Some things cannot be argued. That this is a
Perfect Song
is one of them.
***** Raucous live Replacements, which reminds me, one of my holy grails is laying my hands on a copy of the legendary sloppy live Mats set
"The Sh*t Hits The Fans."
Anybody? Anybody?