"Today's music sucks." You often hear this complaint, usually by someone who thinks music peaked when they were 18. It's true that no music will ever be better than the music you fell in love with as a teenager, whether it was the Bee-Gees or Duran Duran or Jet.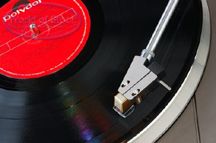 But for those who argue that everything new sucks and everything old rules, I offer up a coven of very, very good bands, all of whom kicked off their careers in the decade to date. Their debut album had to be released no earlier than 2001 (so that disqualifies, say, the
White Stripes
or
My Morning Jacket,
whose first discs were out in 1999), but I find any or all of these acts a good rebuttal to anyone who says it's all downhill from senior prom.
10 GREAT BANDS OF THE 2000s
1.
Arcade Fire
This bombastic seven-member band plays every instrument under the sun to create their symphonic rock, urgent and inventive and convinced of the power of music as salvation.
Check out if you like:
"Ziggy" era Bowie, Roxy Music
2.
Grizzly Bear
They started out doing soft, dreamy laments, but have slowly broadened their palette into a gorgeously sad and intricate sound that grows on you with each listen.
Check out if you like:
Radiohead, Elliott Smith
3.
The Hold Steady
Impassioned workingman's rock 'n' roll overflowing with words and imagery, with frontman Craig Finn ranting and raving away like a born-again preacher.
Check out if you like:
Elvis Costello, Bruce Springsteen
4.
Interpol
Stern, brooding and oh-so-pretty, they started out a little too much like a Joy Division tribute band but have carved a path of hooky, dark and danceable rock.
Check out if you like:
um... Joy Division, The Smiths
5.
Iron and Wine
The whole hushed acoustic guitar folk genre has been done to death, but Sam Beam puts a uniquely majestic, Gothic spin on it, taking the old storyteller strumming away by the fire cliche to haunting and hushed places.
Check out if you like:
Nick Drake, Bob Dylan
6.
LCD Soundsystem
James Murphy's one-man band pioneers disco-punk – hard-driving, witty and ironic tunes with a beat you can dance to, hip without being smug.
Check out if you like:
"Low" era Bowie, Moby, Human League
7.
The Shins
Barely making the cutoff (their first album as The Shins came out in 2001), these guys manage blissful, hooky pop that worms its way into your brain yet maintains an aura of surreal mystery.
Check out if you like:
Beach Boys, Guided By Voices
8.
TV On the Radio
Deftly original "industrial doo-wop," as I've dubbed them a few times on this blog, this Brooklyn based band charts a course between the earthy and sublime -- fantastic harmonies duel with scratchy, dense production.
Check out if you like:
Brian Eno, Peter Gabriel
9.
Wolf Parade
With their herky-jerky rhythms, a growling, grunting frontman and music that takes equal cues from psychedelia and independent rock, this Canadian combo is hustling away a decent career on the fringe.
Check it out if you like:
Modest Mouse, Pixies
10.
Yeah Yeah Yeahs
Their first album was an amphetamine-powered raw, riot grrl blast; with later work they've grown more self-assured and electronica in sound, yet singer Karen O's intense voice remains a distinct pleasure.
Check out if you like:
Hole, Blondie
Honorable mention to a few bands who haven't quite put out enough work to know if they've got the goods long-term or not: Fleet Foxes, Arctic Monkeys, M.I.A., MGMT.