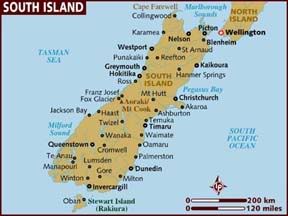 ....And we're back from the
South Island
. It was an excellent trek, our longest family holiday in a couple years (since the wife didn't come with the boy and I to California last summer/winter).
Yeah, trekking with a five-year-old is often an exercise in patience (When do we get to our hotel? How long is half an hour? What is thirty minutes? Can I have ice cream for breakfast? Repeat until sanity snaps with a faint crackling noise) but generally it was very good to get back to the hinterlands of the Zealands.
It was the first time I'd been to
South Island
since my very first visit to New Zealand nine (!!!) years ago now. The South Island is where the landscape is but the people aren't -- less than a million people there compared to the North Island's 3+ million.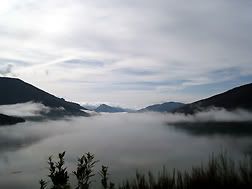 We basically did a big loop of the top half of the South Island, from
Christchurch
over to to the west coast, around through
Nelson
and back again. It was a good time to go, mid-autumn with cool days but blessedly little rain for us, and the trees full of fine colours we don't see up north. On the other hand, while I love the South Island it is mostly composed of narrow, winding roads and lots of insanely scary one-lane bridges. (Any Kiwis want to explain what is it with the one-lane bridges? It's very 1950s.) Seen from the air, the South is like a crumpled mound of snow-covered blankets. On the ground, timid drivers beware.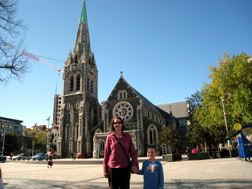 We spent a lot of time in Christchurch, which I'd only passed through on a previous visit. The South Island's largest city, it's a decent place, much flatter than Auckland. I think Auckland's got a prettier environment, but Christchurch actually has a nicer architectural sense than Auckland's jumbled mix of ugly high-rises and boxes. Downtown Christchurch is particularly nice, with
Cathedral Square
dominating the scene. I'm not real religious but I do love a good cathedral and this one has a fantastic timber ceiling. Christchurch also has some swell Botanic Gardens, a nifty Gondola ride where you can see the entire city laid out before you, and a bunch of good used bookstores I raided.
From Christchurch, we went over
Arthur's Pass
towards the west coast. The
Southern Alps
run down the spine of the island, and it was a good ride up into the heights. While the scale doesn't quite compare to Colorado's Rocky Mountains, it's still a mighty fine ride.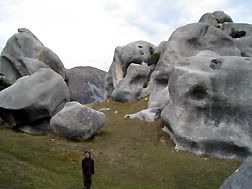 Castle Hill
was a really cool place full of big limestone outcrops that made you feel like a midget and look like something out of a "Lord of the Rings" set. It's still mid-autumn here so there wasn't a ton of snow on the peaks yet.
We swept on up along the grey and wet West Coast back up to
Tasman Bay
, the South Island's northernmost point. We stayed here in the
Motueka
and Nelson areas for several days exploring the first part of NZ Europeans saw -- the namesake Dutch sailor
Abel Tasman
spotted land here back in 1642 (of course, he thought it was part of South America, but hey, nobody's perfect). It's really nice territory, full of sweeping orange-gold sand beaches, steep plunging hillsides and more sunshine than a lot of NZ usually gets.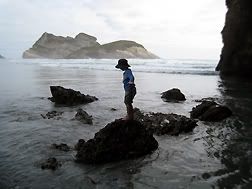 We explored up along
Golden Bay
and
Farewell Spit
, swerving along some of the most dizzying curves of our trip to see sights like
Waikoropupu
, the largest freshwater springs in the land, and a group of friendly fur seal pups playing on a beach just a few feet away from us. We also took a nifty boat tour up along the coast of
Abel Tasman National Park
, then swung over to Nelson to visit Avril's cousin briefly.
Finally, we wound our way back down the East Coast through
Picton, Blenheim
and
Kaikoura
to spend another couple days in Christchurch before flying our way back to the Northland! I think I've rediscovered that New Zealand is actually a very big small country, full of hidden places well worth seeking out.