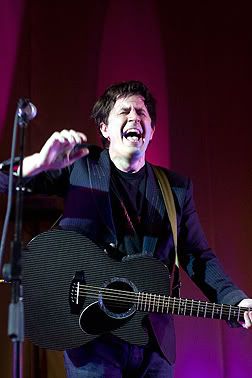 ...
John Darnielle
is the rockingest hyper-wordy acoustic-guitar geek in the music biz. The
Mountain Goats
frontman and his two-man band put on a fantastic show at the
Kings Arms
last night in Auckland, short but intense and often very funny. I've been a fan of the Goats (basically Darnielle and occasional collaborators) for several years now. He's one of the best songwriters in the business and I've long wanted to see him live. There's few singers that can manage the fragile intensity of Darnielle's songs -- Auckland crowds are usually a bit rowdy at gigs but the audience was hushed and reverent as John spun his tales of beat-down outcasts, lost loves and confused minds. They even handed back John's guitar pick when it fell!
John was in very good cheer, on the second-to-last date of a globetrotting tour, telling amusing monologues about Norwegian death metal and songwriting in Alaska. He started the set solo with his acoustic guitar (which he still managed to "shred" on as he pounded away at it), then during a terrific
"In The Craters of the Moon,"
his nattily-dressed bass player Peter Hughes and drummer Jon Wurster joined him onstage, exploding the acoustic tune into a full-on band set. One thing I really loved about John is how un-self-conscious this former psychiatric nurse was on stage -- he doesn't exactly cut a rock-star figure, with his bowl haircut and glasses, but his sheer joy in his craft is contagious. He pulled goofy faces and banged away at that acoustic guitar like he wanted to be Hendrix.
It was marvelous to see the audience at the Kings Arms were such fans, and slightly surreal in the encore to have cheery group sing-alongs to two of the Goats' darkest tunes,
"No Children"
and
"This Year"
(which feature oddly uplifting choruses along the lines of
"I hope you die / I hope we both die"
or
"I am going to make it through this year / if it kills me."
) It's very hard to translate on the page how Darnielle's intense wheedling voice can make words like these seem life affirming, but somehow they do. After the last couple of weeks, it was pretty damned cathartic to sing along with the Mountain Goats.
If I had one caveat, it's that it was kind of a short show, just over 90 minutes maybe, but then again, it was a work night and the wife and I were both worn out and eager to hit the hay by midnight. It was a highly enjoyable show, so quality wins over quantity this time. Props also to a very good opening set by Kiwi band
SideKickNick
, who put on some quirky and energetic power pop. (I've seen a few wretched opening acts lately, so when I see one I dig it makes the whole night a little better.)
Below:
"This Year,"
The Mountain Goats