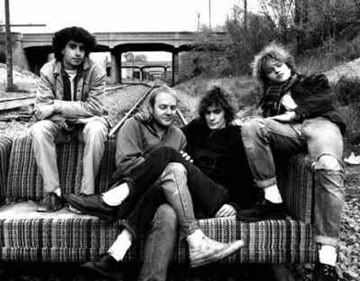 When it all began,
The Replacements
didn't aspire to be the voice of a generation, or anything much at all, really, other than a kick-ass rock 'n' roll band. But singer/songwriter
Paul Westerberg
and his mates -- guitarist Bob Stinson, bass
Tommy Stinson
, drummer
Chris Mars
-- were a little too talented to just tear it up in bars and dives forever, and the Replacements evolved into one of the best bands of the 1980s. They were loud and smart, messy and true. Their
first four albums were reissued
by
Rhino Records
earlier this year, with a ton of bonus tracks.
Now Rhino is back with the second half, the final four Replacements albums from 1985-1990 all polished up with remastered sound, liner notes and a nice selection of bonus demos, rare and live tracks. For Replacements fans, these are must-haves, with a total of 35 new songs added between the four discs.
The Replacements' fourth album,
Let It Be,
was an audacious masterpiece (naming yourself after a Beatles disc does take a peculiar kind of guts). The band got signed to the major label Sire, and were poised for greatness. Unfortunately, the major label marked the beginning of the end -- founding guitarist Bob Stinson soon got kicked out over his self-destructive alcoholism, there was the usual tug-of-war between trying to win fame and trying to stay true to themselves, and the Replacements flamed out by 1990.
Let It Be
's 1985 followup,
Tim
, still showed the band at the height of their chaotic powers. Westerberg was stretching his songwriting wings here and it's classic tracks one after another:
"Hold My Life," "Bastards of Young," "Kiss Me On The Bus," "Waitress In The Sky."
The mature talent that showed in early tracks like "Shiftless When Idle" blossoms here – Westerberg is trying to articulate what it means to be young, confused and indecisive, and that yearning, questing feeling illuminates the best of his work. He doesn't pretend to have the answers, as he sings on "Bastards of Young":
"God, what a mess, on the ladder of success / Where you take one step and miss the whole first rung."
The outtakes here include several versions of songs recorded with Big Star lead singer
Alex Chilton
, who would be homaged in the band's next album. If you like "Can't Hardly Wait," you'll find two versions of it in the bonus tracks - echoey acoustic and spiky electrified ones. Shortly after
Tim
was finished, Bob Stinson, who never liked Westerberg's mellower songwriting directions, was kicked out of the band and a bit of the outlaw edge was lost.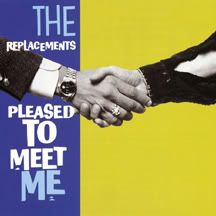 1987's
Pleased To Meet Me
sometimes gets overshadowed by
Let It Be
and
Tim
, but it might just be my own personal favorite Replacements disc. I've always had a love for the anthem
"Alex Chilton,"
a ferocious tribute to the man whose sound is a big inspiration for the band, and this disc balances the heartfelt
"The Ledge"
and
"Can't Hardly Wait"
with the slacker stomp of songs like
"I Don't Know"
and
"Red Red Wine."
A hefty 11 bonus tracks are included on the reissue, including the intriguing unreleased work in progress
"Photo,"
the excellent snarling B-side
"Election Day"
and covers of
"Route 66"
and
"Tossin' And Turnin."
Conventional wisdom has it the Replacements' final two albums mark a decline, a move away from raucous alt-rock into mawkish sentimental pop, but there's actually a lot to like. Admittedly, 1989's
Don't Tell A Soul
is probably the weakest Replacements album – the production is just too slick and '80s, and the tone uncertain as the band moves awkwardly towards adulthood. Still, the marvelous
"I'll Be You"
stands out, and was the band's only Billboard top 100 hit. The reissue of
Soul
includes some of the best rare gems in the catalogue, such as boozy country-fried rarity
"Portland"
and a marvelously silly, slapdash jam with none other than Tom Waits,
"Date To Church."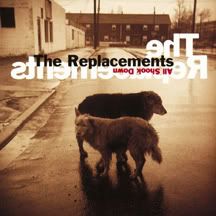 The band's swan song
All Shook Down
really isn't a Replacements album at all, but Westerberg's first stab at a solo album, with fellow members Mars and Tommy Stinson only making a few appearances and a session band filling in the rest. If you're looking for the anarchic spirit of
Hootenanny
-era Replacements you won't find it here, as it's an album heavy on acoustic sounds, introspective lyrics and hushed vocals. Yet for all that, it's a calmly compelling, melancholy disc about the hangover at the end of an era, with some of Westerberg's sharpest writing (
"Sadly Beautiful," "Merry Go Round"
).
"Where It Began"
is a bittersweet farewell to what was:
"Never had to bow to you when we began / now I can play you a tune at your command."
The sense of drunken fun that dominated the band's early albums is gone, true, but there's still a considerable talent left behind.
The Replacements left a considerable influence on alt-rock -- and Westerberg's solo career hasn't quite set the world on fire, maybe, but it's still produced some fine and very underrated music. Bob Stinson sadly succumbed to his addictions in the 1990s, drummer Mars became a painter and Tommy Stinson, of all things, joined Axl Rose's rotating Guns 'n' Roses cast. The story of the Replacements is really that of Westerberg, growing from a smart-mouthed adolescent into a confident songwriter. The rougher edges get sanded off along the way, but that happens to us all, doesn't it?