Music: Takin' a ride with Shakey: Neil Young's Biography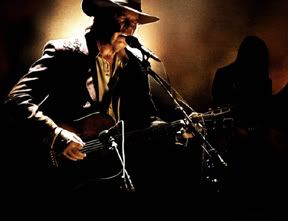 If you ask me,
Neil Young
is perpetually cool. I went through a big Neil phase circa 1990-1994 or so, turned on by the epic, cranky
"Rockin' In The Free World"
single and the accompanying stellar album
Freedom
. Somewhere along the way I lost interest in picking up every new album of his as they came out and drifted on to other things — not that I stopped liking Neil Young, you understand. Now, thanks to a fine book, I'm back on the Neil Young kick again.
The 2002 book
Shakey: Neil Young's Biography
by Jimmy McDonough is an attempt to untangle the truth about Young – and it featured the cooperation of the very private star. Star cooperation often means a book that's been whitewashed into generic, applauding prose.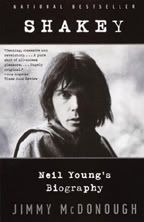 But McDonough has crafted a book that belongs in the higher echelons of rock biographies – it's loose, sprawling, candid, overlong and over-opinionated, and it fits its subject perfectly. More than 10 years of work and a lot of heartbreak went into
Shakey,
and it shows. Through more than 800 pages, I was riveted. Those expecting a more conventional biography will be annoyed, but I think McDonough knew that Neil would confound any attempts to pin him down and adapted accordingly.
Shakey
acknowledges that no biography can capture every facet of a life, that there's always some myth and mystery in trying to retell someone's story. The result is a book that's as much about Neil Young as it is about trying to write a book about Neil Young.
McDonough casts himself prominently in the book as he trolls through Young's 40-year career, hunting down old friends, relatives and enemies. The book is also interspersed with lengthy, remarkably honest interviews with Young, who comes off as a cantankerous but often brilliant artist constantly trying to break the mold: "Rock and roll … that's where God and the devil shake hands – right there, heh heh heh."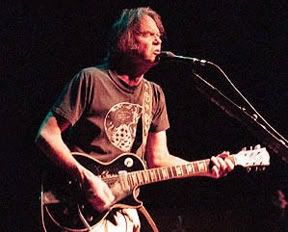 McDonough captures the grit and contrary talents of Young, who's swerved from Sonic Youth roar to folksy campfire ballads to techno-drone rock in his lifetime. He paints Young as firmly following his muse no matter the consequences – including lost friends or a damaged career.
Shakey
offers a defining portrait of how albums like
Everybody Knows This Is Nowhere, Tonight's The Night, Zuma, Ragged Glory
and more came to be.
Young's battles with polio, epilepsy and drugs, his having two children born with cerebral palsy, the failed relationships, battles with a record label that actually sued him over the content of his "uncommercial records" – it's all here. "It's a big wake. A lotta destruction behind me," says Young, who fully admits to being an "asshole" sometimes.
Shakey
is packed with great stories capturing the debauchery of '70s rock, and the casualties it left behind. In particular, his take on Crosby, Stills & Nash is devastating, like a coked-out version of Spinal Tap.
McDonough has a huge bias towards Young's sloppy, raw Crazy Horse material and is less invested in his other country, folk or more bizarre 1980s side roads. He's constantly boosting Young's work and making snide asides about other artists, particularly Young's rival/partner Stephen Stills. Of course, that slant of the author's can and does become tiresome. He's the kind of guy who will diss an acclaimed album like
Freedom
in favor of some obscure live bootleg recorded in the back of a pickup truck.
I'll admit, by the last 50 pages or so McDonough wears out his welcome, becoming more and more prominent in the narrative (he'd have us believe he helped steer Neil's career, even) and generally coming off as just another loudmouth know-it-all fan. Yet that same fanboy passion is what keeps
Shakey
hurtling along as a narrative that evokes the spirit of the artist's music more than many other rock biographies. It shakes all right, but it also rattles and rolls.