BOOKS: 'Awake In The Dark' with Roger Ebert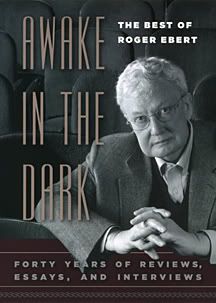 Can you be America's most well-known movie critic, a television star and household name, and still be kind of underrated? If you're
Roger Ebert
, quite possibly. The man who added "thumbs up" to the vocabulary is so famous that it's easy to forget that he's also an eloquent, accessible and continually insightful critic. He won the Pulitzer Prize for criticism in 1975, the first film critic to win that honor. Yet when you think Ebert, you might just think, "oh yeah, the thumb guy."
The excellent new compendium,
Awake In The Dark: The Best of Roger Ebert,
serves as a fine way to remind us that Ebert is, first and foremost, a gifted writer. A survey of his 40 years in the business of loving and explaining movies, it's essential reading for anyone who likes film. Besides dozens of his reviews, it also includes interviews, "think pieces" and a fascinating series of debates on the future of film criticism between Ebert and TIME magazine's Richard Corliss. Movie reviews include a look at each of his favorite films from 1967 to 2005, sections on documentaries, foreign films and "overlooked" movies.
Ebert makes it look easy. Avoiding cruelty and cynicism, his best pieces always feel as if he's having a conversation with the reader, rather than lecturing them. Some of the strongest writing in
Awake In The Dark
is a look inside Ebert's thoughts on the nature of film. "A movie is not about what it is about," he writes. "It is about how it is about it." His celebrity may overshadow what a fine teacher he is.
From blockbusters to unknown curios, Ebert treats them all fairly, asking only that they don't condescend to us. I recall his startling choice for best movie of 1998, an obscure science-fiction film called
Dark City
by Alex Proyas, which zipped in and out of theaters in a flash. His review illuminated this dazzling movie for me – "created and imagined as a new visual
place
for us to inhabit," he wrote – and I promptly hunted it out on DVD. Turning you on to something you hadn't imagined existed is perhaps the finest pinnacle of the critic's art.
What exudes from Ebert's work is love. Unlike some critics, you get the feeling he genuinely loves movies, and always goes in hoping to be entertained, rather than angling for how to impress his readers or score points with venom. When he hates a film, you can sense his true disappointment. When he loves a movie, he's its firm champion for life – "I never get to the end of its mystery," he writes of Errol Morris' cult documentary about pet cemeteries,
Gates of Heaven,
one of his favorite films.
His bittersweet closing essay, written as he battled life-threatening cancer in 2004, is a testament to powerful allure of movies, of "healing in their glow" as he writes. Ebert's
Movie Yearbook
series, collecting all of his reviews for a given year or two, also make for grand reading and offer far more depth than most movie guides, but
Awake In The Dark
does the job of establishing Ebert's legacy and giving one critic's perspective of 40 years of startling changes and evolution in the picture show.
I know I've discovered many an excellent filmmaker through Ebert's raves – Kurosawa, Herzog, Altman, for instance. I don't always agree with him, of course. That's not the point. But I'm always interested in what he's got to say. Here's hoping
Awake In The Dark
is both a stirring summation and a prelude to a career that's still got many a movie ahead of it.