...No, I refuse to believe it's mid-December already and the year 2011 looms out on the horizon like some Kubrickian monolith. It's time for the usual year-end review wrap-ups to begin littering the blogosphere. So in the first of an intermittent series wrapping up the year that almost was, here's my
Favourite Movies I Saw In 2010.
As usual, several of the big Oscar hopeful movies haven't opened down under yet like
"The King's Speech," "127 Hours"
and
"True Grit,"
so I'm keeping this strictly to what I've seen -- and a couple of movies from the tail end of 2009 sneak in as well.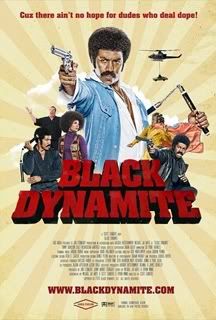 In alphabetical order --
Black Dynamite
Man, this movie is a hoot. In and out of theatres in about 15 minutes last year, it's a spoof of classic '70s blaxploitation movies that is one of the funniest comedies in years. It's the kind of thing Quentin Tarantino tried to do with his 'Grindhouse' movies. The movie parody genre has been pretty much kicked to death by the hugely unfunny
"Scary Movie"
type flicks, but "Black Dynamite" harks back to the original "Airplane!" with how lovingly it parodies '70s cheese and
Michael Jai White
's great turn as the unstoppable Dynamite. And any movie that ends with a kung fu battle with Richard Nixon
must
be on a Top 10 list.
Boy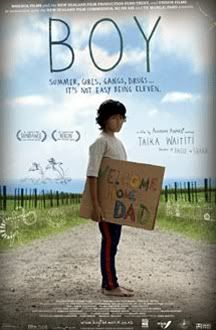 This New Zealand charmer became the
top grossing movie EVER
here this year, and writer/director
Taika Waititi
proved he's a talent to reckon with. His first feature
"Eagle V. Shark"
was a goofy romantic lark. Here, he digs in to make a surpassingly kind-hearted comedy/drama set in 1984 about a teen boy's life in an isolated East Coast Maori community when his shiftless, braggart father returns home. This ain't like the hushed and mythic "Whale Rider," though -- Waiti's fanciful script, witty asides and even Michael Jackson tributes make it feel uniquely New Zealand, yet accessible to anyone. If you like the
"Flight of the Conchords"
sort of deadpan humour seek this out.
The Fantastic Mr. Fox
Another one from late 2009 that opened in New Zealand in 2010, and I'd take
Wes Anderson
's take on Roald Dahl's kiddie classic over 100 "Shrek" movies. I'm a fanboy deluxe for pretty much every movie Anderson's ever done, but this was something special because both the 6-year-old and I could get into it. I love the charmingly low-fi animation, the production design filled with all of Anderson's trademark flourishes, and a pitch-perfect
George Clooney
as the voice of Mr. Fox. I've watched this at least 3 times so far and love it every time. I wish all movies aimed at children could be more like this one.
The Hurt Locker
The "best" movie of 2009? I dunno, I never place too much seriousness on that Best Picture Oscar, but this is miles better than the all-flash, little substance
"Avatar,"
with a topical Iraq war story that incorporates more knuckle-whiteningly tense scenes than I thought I could handle. I've been a fan of director
Kathryn Bigelow
's eye for ripping action scenes
ever since "Point Break."
It may stumble a bit in scenes not on the battlefield, but the ones set in the heat of war are scorching.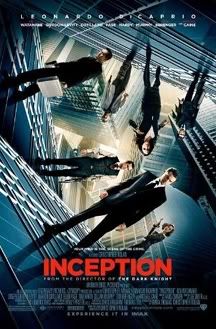 Inception
There's a kind of gun-metal coldness to
Christopher Nolan
's style as a director -- movies like "The Dark Knight" and "Memento" are pretty much utterly humorless, shadowy views of the world, polished like gemstones. This one is almost a remake of "The Matrix" with more brooding and less sci-fi, and an excellent cast (highlighted by one of my favorite young actors,
Joseph Gordon-Levitt
). Several fantastic set-pieces make this a summer blockbuster that sticks with you. Does the story make a lot of actual sense on a second viewing? Not entirely sure yet, but it sure sucks you in while you watch it.
Scott Pilgrim Vs. The World
This one didn't do great at the box office, because for some reason it was perceived as a "hipster movie." Maybe it's Michael Cera, whose itchy dork characters seem to annoy some people. But Edgar Wright's high-octane adaptation of the graphic novel series may be one of the most faithful comic adaptations ever - like the "Sin City" movie with a video game gloss. It's tremendous entertainment, incorporating video-game effects, snappy wit and cartoony violence into a mish-mash of gleeful fun.
A Serious Man
Here's the Coen brothers in full-on "weird" mode, as in more "Barton Fink" than "Raising Arizona." But what a strange, captivatingly weird one this is -- a kind of tangled meditation on fate, faith and the cruel whims of the universe, all cycling around one Larry Gopnik's tragic, slow downfall in 1960s Minnesota. Gopnik (a superb Michael Stuhlbarg) is a college professor who over the course of the movie battles infidelity, spoiled children, crazy neighbours and student blackmail. It's the Coen brothers at their best -- comic in as black a fashion as possible, but also quizzical, with plenty to chew on afterwards.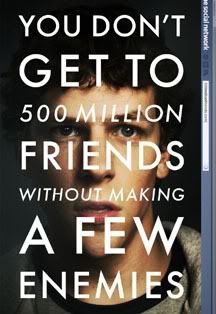 The Social Network
Here we have a movie about a bunch of over-privileged geeks sitting around at their computers. So why it is so bloody fascinating?
David Fincher
brings the same ultra-intense feeling of dread he brought to his
"Zodiac"
to this tale of social hustling and nerds avenged. Aaron Sorkin's crackling script and some truly good performances by actors playing quite unlikable people make this one zip by, and I think it sums up the zeitgeist of life in 2010 as well as anything else could.
Teenage Paparazzo
I wrote about
this one back at the NZ International Film Festival,
and still think back fondly on this funny, insightful look at the relationship between the famed and the fans. "Entourage" star
Adrian Grenier
has made a nicely low-key documentary about a teenage celebrity shooter that twists and turns in amusing ways.
Toy Story 3
This is pretty much a no-brainer, but if this movie consisted of nothing more than its final 15 bittersweet minutes, it would still be a classic for the ages. As it is it brings together Pixar's usual top-notch quality storytelling with an ode to vanishing childhood that will make all but the most soulless of cretins sniffle a bit at the end. Happy trails, Woody.