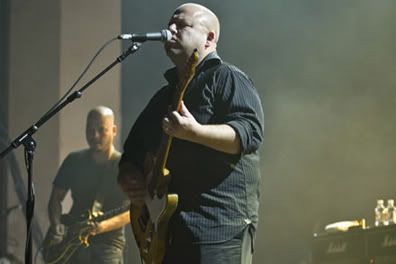 So last night was alt-rock legends
The Pixies'
very first tour in New Zealand, like,
ever
, on the road on their
never-ending reunion tour
, this time playing their 1989 classic album
"Doolittle"
straight through, beginning to end. They pretty much sold out the massive 12,000-seat
Vector Arena
, filled to the brim with former hipsters-now parents like myself (fun game -- count the balding 30-something blokes with shaved heads! Pretend they're all clones!). NZ has been waiting a LONG time for Pixie love -- I know several people that were practically buzzing out of their seats all week in anticipation. And it was awesome good fun, with
Frank Black, Kim Deal
and co. slashing out the riffs, yelps and screams like it was 1990 all over again.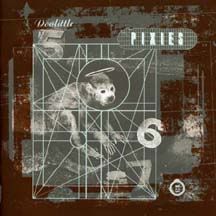 It was a bit of deja vu for Avril and I as we were (probably) one of the few there who'd actually seen the Pixies live since they reformed in 2004 -- we caught them on
one of their very first gigs almost exactly six years ago
back in Oregon. So we didn't have the shock of novelty going for us, but it was quite interesting to contrast seeing them at a 1,200-seat club vs at a cavernous 12,000 capacity arena. We definitely had better views at Eugene, where the band was a bit looser (Joey Santiago doing an impressively fun series of impromptu guitar solos), but Auckland's show was a prime spectacle -- there was something quite awesome about seeing so many thousands of people so totally into the definitive "cult" band, singing along to grotesque and weird anthems like
"Debaser," "Gouge Away"
and
"Hey."
They were smoothly professional with just enough of a gritty edge to not seem like a total cash-in reunion tour, and the two encores were awesome, with fantastic versions of
"Into The White"
and
"U-Mass."
I'm just too darned old for the front row, but I actually like sitting a bit back from the stage and seeing the sweep of hundreds of heads bobbing, hands waving. Kim Deal was the definition of rock-chick cool, Frank Black screamed so much I thought his throat would explode, and we all thrashed away.
We also had the fun of people watching -- as usual there were a fair percentage of goofs who seemed to just show up to spend $100 on tickets, get as drunk as humanly possible on $8 beers, then get thrown out (the guy who got tossed out during the second song was tied for 'Winner of the Night' with the other guy who tried to vault a fence into the pit and did an amazingly epic face-plant on the concrete floor instead).
Anyway, it was totally cool to see the Pixies once again -- the last time Peter was just a 10-week-old shrimp, today he's a bouncy 6-year-old! -- and to see them earning the cash and the acclaim that they deserved back in the day. "Doolittle," at 21 years old, still sounds strange and spacey and surreally menacing, as fresh as anything from 2010. Gouge away, my friends, gouge away...