Burning the Midnight Oil, 20 years on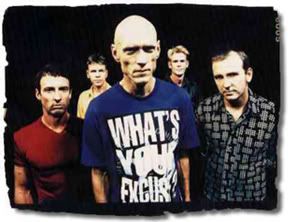 It's hard to remember what a breath of fresh air the music of
Midnight Oil
seemed like on the American Top 40 back in 1987, when the song
"Beds are Burning"
suddenly was everywhere. A fiery call to arms, with that catchy chorus
"How can we dance when our earth is turning / How do we sleep when our beds are burning?"
It had the drive of punk, the universality of pop, and a slithery exotic feel that stood out from the pack. It sure didn't sound like George Michael, you know?
With a blast of Australian heat and passion so intensely political that they made U2 look like amateurs, Midnight Oil tackled the environment, indigenous rights, and other causes with their ferocious anthems. To a world that associated Australia with Men at Work and koalas, it was a revelation. Their 1987 disc
Diesel and Dust
remains a classic, punk power pop mixed with Australian flavours, didgeridoo mashed with electric guitar. It's an antipodean answer to U2's
The Joshua Tree.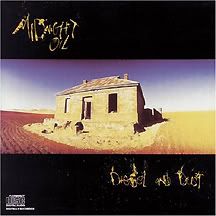 I can't quite believe it's been 21 years since
Diesel and Dust
broke Midnight Oil to the world. A massive global hit, it's also an album that sounds nearly as fresh as it did the day it came out. A new
Sony Legacy Edition CD/DVD
set remasters the album with a bonus song, and a fascinating documentary about the band's tour of the Aboriginal Outback.
Front man
Peter Garrett
, over 6 feet tall and bald as Australia's monolith rock Uluru, was a stunning stage presence. I saw the Oils live back in the late 1980s, and they were a dynamo – I remember thinking at the time that frontman Garrett's herky-jerky dancing style was like watching a man who'd just been smacked in the spine by a sledgehammer. Garrett's frantic energy leapt off the stage.
The major bonus of this reissue is the DVD
Blackfella/Whitefella,
which follows Midnight Oil's 1986 tour of remote aboriginal settlements with the great Warumpi Band. This is an astounding historical document, packed with great Oils performances in juke joints, shanty towns and the outdoors. The film is light on narration, heavy on music and a look at aboriginal lives. The hinterlands tour showed the Australia that tourists rarely see, the harsh conditions many Aborigines live in.
"It was the most collectively exciting, eye-opening and ultimately saddening experience for us as a band," drummer Rob Hirst said. But out of the tour came the inspirations for the songs of
Diesel and Dust,
both an Australian love letter and angry rally against the country's injustices. It's not too much of a stretch to say that Midnight Oil helped contribute to the climate of reconciliation that led to the Australian government's extraordinary apology to Aborigines this year.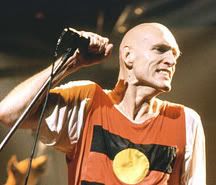 Blackfella/Whitefella
is a great music road movie, a meeting of the cultures, a fine travel documentary and a real treasure. It's great to see it rescued from obscurity in this new album. Still, this package is a slightly disappointing as a "special edition." There's only one bonus track, the rare "Gunbarrel Highway." I was hungry for a little more – rare B-sides, live tracks maybe, a retrospective essay even.
Midnight Oil went on to release several more solid albums, but
Diesel
and its followup
Blue Sky Mining
were the peak of their global success. They put a spotlight on the kinds of issues rock rarely dealt with, even in the "Live Aid" and "We Are The World" era. The band broke up in 2002, but Garrett hasn't given up fighting for what he believes in – he turned to politics, and today is part of the ruling
Labor
government in Australia as the Minister for Environment, Heritage and the Arts. Midnight Oil may have hit the charts 20 years ago, but their impact still goes on today.