A Yank's Humble Guide to Kiwi Rock (Part I)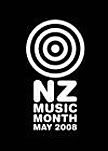 So
May
is
New Zealand Music Month
! New Zealand has its own big and diverse music scene, as sprawling in its own way as any other country's – pop, punk, R&B, rap, opera, Maori tunes, you name it, it's all down here down under.
Unlike my wife Avril, I didn't grow up with New Zealand music, and so I've been kind of exploring it with a prospector's eye. Recently tossing together a mix disc of some of my favorite NZ music songs got me looking at the spectrum of NZ music. A really cool set of 6 CDs that came out a few years ago are
"Nature's Best,"
which is the top 100 songs of all time in NZ as chosen by kiwis. Great sampler of NZ music.
Here's a totally non-comprehensive handful of some of my favorite NZ bands that appeal to my narrow post-punk/indie rock kinda sensibilities – the ones I've discovered so far, that is. This is hardly all-inclusive – I'm not really into hip-hop or acts that are imitating limp top 40 American music , and there are a
lot
of acts who are quite famous in NZ music industry that I still barely know like
Dave Dobbyn, Bic Runga, Th' Dudes, Dragon
and
Chris Knox
, to name a few. I'm still figuring it all out!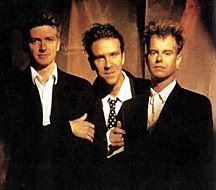 Crowded House
- Basically, the Beatles of NZ music. I first heard Crowded House back in 1988 or so long before I really even knew there
was
a New Zealand and I've long loved their gently melancholy pop music. The one NZ band most Americans know, and songs like "Better Be Home Soon" and "Something So Strong" still play on '80s radio stations today. Frontman
Neil Finn
has a real gift for melodic hooks and has a fine solo career aside from the House as well. Crowded House's hits collection
"Recurring Dream"
is just about all perfect songs in my book. (Also related: Neil's older brother
Tim Finn
and the very influential band they both were part of,
Split Enz
- who might be the Little Richard to the Beatles analogy. Or Jerry Lee Lewis.)
The Chills
- After Neil, my favourite NZ band I think. I first heard 'em on a tape my eventual wife made me back in 1993 or so, and they had a haunting, otherworldly quality. Fine pop music that was laced with an echoey, spacey aura that made it feel like amazing hit tunes from an alternate reality. Great songs like "Pink Frost," "I Love My Leather Jacket" and the self-explanatory "Heavenly Pop Hit" all muster up restrained elegance and a sprinkling of grit. Lovely stuff. Go get
"Heavenly Pop Hits: The Best of the Chills"
immediately.

SJD
- A semi-veteran of the current alt-rock scene. Last year's album
"Songs From A Dictaphone"
won rave reviews and I picked it up recently. It's an eclectic, very '80s feeling kind of mix that's frequently quite beautiful, electronica-leaning tunes that have a confessional feeling, like "I Wrote This Song For You" or " Bad Karma In Yokohama." Kind of a distant cousin of
Elliott Smith
with keyboards instead of a guitar, maybe?
Shihad
- Hard-driving alt-rock act that's quite big among the head banger crowd. I like some of their mid-90s work that my wife owns although not all of it's to my taste. Perhaps a NZ version of
Soundgarden
would be the best analogy?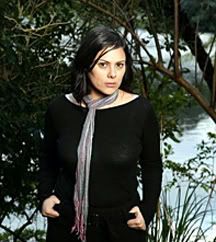 Anika Moa
- I saw her open for
Ryan Adams
a year ago, and she was great – doing the sensitive singer/songwriter thing, but with a wry and witty side. I only own her second album, and it's pretty good, although she was actually more spunky live I thought. There's a lot of similar girly singers here (
Bic Runga
perhaps the most famous) but Anika's the only one who's grabbed me so far.
Liam Finn
- The son of Neil, so you know he's kind of like the
Julian Lennon
of New Zealand. Actually, his debut solo album,
"I'll Be Lightning,"
is quite good, slightly askew power pop with a raw, garage-band edge to it. There's a lot of dreamy Finn/Crowded House influences, but run through an alt-rock filter and it's all a very promising, hook-filled debut.
Flight of the Conchords
- Wrote about them
quite recently
, and just last week they stunned by having their
first album debut at #3
on the US
Billboard
top albums chart - which turns out to be the top New Zealand artist debut ever there, even outdoing the mighty Neil! That said the album is good if not quite great - basically a soundtrack to their HBO TV series but not much new stuff, which is a bummer. It feels a bit more like contractual obligation than artistic leap. Great versions of folk-joke stuff like "Robots," "Leggy Blonde" and one of my favourites, the highly goofy "Bowie."

The Clean
- The big grandaddies of the alt-rock NZ scene and their 2-disc
"Anthology"
is an excellent primer for anyone interested in post-punk; a big influence on bands like
Pavement
and
Yo La Tengo.
Formed way back in 1978, and their songs like "Platypus" and "Tally Ho" have a kind of ramshackle fuzzy beauty, like the
Velvet Underground
through an antipodes filter. It's got that kind of faraway strangeness the best of kiwi rock I've found has, like a pub-rock singalong composed entirely of arty rock fans. Definitely one to check out if you're interested in "the scene".
...And that's just a start, mate! I could easily put together a "part II" of this sometime soon as I delve more into the mysteries of Kiwi rock history. Cheers!