MUSIC: TV On The Radio, 'Return To Cookie Mountain'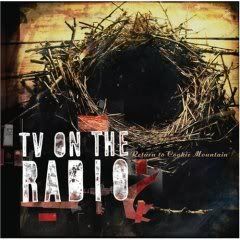 Don't get comfortable. TV On The Radio's second album of peculiarly gorgeous art-rock is calculated to push the boundaries between melody and cacophony.
Return To Cookie Mountain
is what we critics like to call a "challenging" record. That means it ain't for everyone, but those that like it should really like it.
TV On The Radio's first LP, 2004's
Desperate Youth, Blood Thirsty Babes
, was a memorable stew of industrial-strength alternative rock crossed with doo-wop and gospel sounds. Songs like "Staring At The Sun" or "Dreams" combined great pop imagery with an urgent funky feeling. The Brooklyn-based band came from an art student background, which doesn't necessarily imply classic music. Yet their debut was striking and fueled hopes for what was next.
So leave it to this band to head out into left field with the long-awaited follow-up. You'll hear echoes of
Desperate Youth's
sound here, but
Cookie Mountain
is a big quantum leap forward. It's daring, original stuff.
Tunde Adebimpe's throaty voice (often compared to a young Peter Gabriel) duels with the otherworldly falsetto of Kyp Malone. David Andrew Sitek (music/guitars/keys/loops) Jaleel Bunton (drums) and Gerard Smith (bass) round out the quintet.
The easy hooks of TV On The Radio's earlier songs evaporate into a whirling slush of sound here. Gorgeous sounds waft in, then fade out again. It's terrifically experimental and often breathtaking. It's also a lot to throw at the listener, and requires several listens to really start to appreciate.
The first track,
"I Was A Lover,"
sets the tone for the disc, building up from a series of Radiohead-esque bleeps and bleats into a cascading wall of sound. Strange found noise fades in and out of the scene, the band shifting from noise rock into piano-laced doo-wop, moving with a startling jaggedness. There's even a few alarming CD skip-noises laced in with the track. It might turn you off – it's a daring choice for an opening number, but it took me off guard with its shambling assault.
But with song two,
"Hours,"
TV On The Radio swerves again, with Malone doing his best Beach Boys harmonies over a slapping series of beats and Adebimpe barking darkly oblique lyrics like "inform our future youth / summon from the sky." The cloudy world of TV On The Radio seems tailor-made for the nebulous angst of post-9/11 life.
Big-time TV On The Radio fan David Bowie drops in for guest vocals on the epic
"Province,"
while the thundering
"Wolf Like Me"
is probably the disc's best shot at radio play, a propulsive blast of a tune that name-checks werewolves and "Little Red Riding Hood."
"Let The Devil"
in has an old-school R&B feel with Adebimpe's sexy crooning, but then it explodes into Pixies-like screams for a chorus. The beautifully gloomy
"Blues From Down Here"
might be a lament by a dead man to his lover, a son's mournful message to his mother, or a murderer's confession.
You can't predict quite where this band is going next, and that gives
Return To Cookie Mountain
the kind of burning urgency that indicates a record for the ages.
The band's ambition occasionally overwhelms it. While most of the songs unfold with beauty the more you listen to them, some of them never quite take off or dissolve into static. Sometimes, the brooding vocals are buried too far in the mix to really understand the lyrics at all. (It helps if you listen with headphones.)
Although maybe that's the point –
Return To Cookie Mountain
is a disc about atmosphere, about the clashing nexus between beauty and chaos. You get fragments of lyrics layered in with all the ambient noise, and it's really a record that doesn't sound quite like anything else out there today. Stay tuned to what TV On The Radio does next.