LIFE: Peter is the Egg-man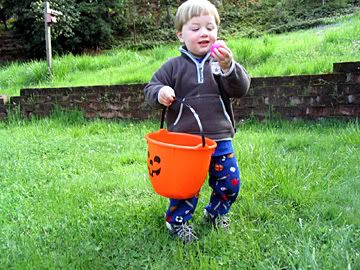 ...Happy
Easter
to all and all a good night. We missed Roseburg's big Easter Egg Hunt at the park yesterday (and it was raining anyway) so we did a mini hunt for Peter in the front yard this a.m. between showers, hiding plastic eggs with chocolate candy inside all over. He got quite into it, lots of "found that!" and "there egg!" Then he wanted to do it all over again once he found all the eggs. (Note our season-inappropriate recycling of his Halloween bucket as the Easter basket.)
We were on an impromptu trip up to
Portland
yesterday to get our city fix (and take Peter to the swell Sesame Street exhibit at the
Portland Children's Museum
). I did the visits to
Music Millennium
and
Powell's
and picked up plenty of books and CDs -- at MM, I scored
"Talk Normal: A Laurie Anderson Anthology"
which I've been meaning to get for years, a copy of
"Pet Sounds"
by The Beach Boys to replace one I lost years ago;
"The Covers Record"
by Cat Power, and Bloc Party's
"Silent Alarm"
CD, which is excellent, full of windmilling guitar riffs. Then at the finest bookstore in all the land, Powell's, I scored paperbacks of
Haruki Murakami
's
"Underground"
and
"Sputnik Sweetheart"
(I loves the Murakami);
"Mystery Train"
by
Greil Marcus
, a legendary music-criticism book I've been hunting for;
"The Rough Guide To Elvis"
;
"Why Orwell Matters"
by Christopher Hitchens which looks intriguing, and
"Never Mind The Pollacks"
by
Neal Pollack
because I find his satire amusing. That's the problem with living in a town with not much in the way of book or music shops – when I get to a town that has 'em, I blow a few paychecks. Ah well...
We also stopped in Woodburn for a big tulip festival. Despite the fact the fields were half-mud due to the constant rain lately, it was nifty and Peter got to pose fetchingly in the tulips. I'm sure the rain will stop eventually... July isn't
that
far off...