COMICS: Silly and serious with Kyle Baker
"Kyle Baker: Cartoonist." Sometimes one word is all you need.
Kyle Baker
is indeed a cartoonist … one of the best of them. Equally capable at balancing one-panel gags, whimsical parodies and dark, weighty drama, Baker has been plying his trade for over 20 years now. He's trafficked with mainstream heroes such as Spider-Man, Superman and The Shadow, but he's made his most distinctive mark with his own quirky, distinct style in works from "The Cowboy Wally Show" to "Kyle Baker: Cartoonist." Two of his latest works,
"The Bakers"
and
"Nat Turner,"
show the diverse talents of this cartoonist.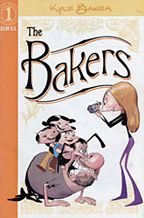 "The Bakers"
– featured in both graphic novels and single comic books – are a whimsical family cartoon, semi-autobiographical, and a little like an actually hip and funny version of "The Family Circus." It's the adventures of Baker, his wife and their three young children, and the strips don't tend to be "about" much – Mom gets a birthday present, Dad plays a game with the kids. It's the commanding style and craft Baker brings to his work that raises them to gorgeous cartoon art. Baker's influenced by the classic "gag strips" of the '50s and earlier, but gives them a modern spin."The Bakers" are wacky, gently wise and always amusing.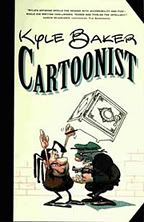 Baker impresses by his constant changes in style. His earlier work was pen-and-ink based, shadowy and expressive yet fairly traditional. But in recent years, his work has exploded into a newfound looseness, and he's one of the pioneers of using computers as a drawing tool. He's one of the best caricaturists out there (one of the many hats he wears is doing a great deal of magazine illustration work), able to bend from full-on cartoons to slightly exaggerated neo-realism.
"Kyle Baker: Cartoonist"
Volumes 1 and 2 present a heaping helping of "The Bakers." Baker's art goes rubbery and fluid (Baker draws himself as a kind of dreadlocked, roundish genial goofy Dad) in these and his equally amusing one-panel "gag" cartoons.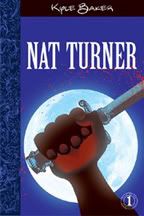 The pastoral pleasures of "The Bakers" are what make
"Nat Turner"
such a shocking turn. Based on the failed 1830s rebellion by former slave Turner, it's unflinching in its look at the horrors of slavery. The first issue of a planned four-part series dramatizes Turner's family history from Africa to slavery, with a harrowing journey on a slave ship. Issue two shows the young Turner and his religious awakening that led to later violence. Turner and his followers would kill more than 50 white people before being executed themselves, blood turning to blood.
Baker tells this tale with almost no words at all, letting the images unspool like a nightmare. As the series progresses, Baker mixes his art with text excerpts from "The Confession of Nat Turner." "Nat Turner" isn't easy to read, full of horrible brutality against slaves. (With the concluding half likely to be even more graphic.) It's the polar opposite of the warm 'n' fuzzy "Bakers," but it's full of truth – and frankly, this ugly time in American history needs to be remembered every once in a while. Baker slaps you in the face with the evil of slavery; it's harsh, unforgettable stuff.
Check out
www.kylebaker.com
for more from the pen of Kyle Baker.