LIFE: My two front teeth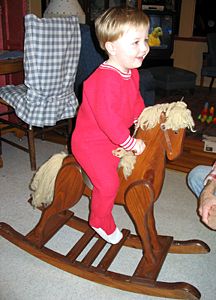 What I got for Christmas:
• Lots of nice new shirts and socks, because I must look respectable.
•
"Sin City: Recut, Extended Unrated"
DVD. Because I was clever/lazy enough to not buy the no-features original DVD released back in August. And because what says Christmas more than multiple decapitations?
•
"Fantastic Four"
DVD. Because I liked it, darn it.
•
"Throwim Way Leg: Tree-Kangaroos, Possums, and Penis Gourds-On the Track of Unknown Mammals in Wildest New Guinea"
by Tim Flannery. This is the sort of book my wife gets me. It's actually pretty cool, New Guinea's a strange place.
•
Eminem, "Curtain Call: Greatest Hits."
Because I am gangsta.
• New slippers!
•
"Guided By Voices: The Electrifying Conclusion"
DVD courtesy of NZ in-laws, hurray, commemorating the farewell tour
I saw most of a show from
with a four-hour (urk) concert bacchalanian memento.
• New luggage, courtesy of great parents, especially handy for
February's New Zealand jaunt.
• Far, far too much candy for my own good.
Oh yeah, wife Avril and Toddler Peter got lots of stuff, too. And Peter got to ride on grandma's rocking horse! (Estimated time between photo taken and Peter falling off said horse: .000012 second.)